Hi everyone!
A few days ago I launched my new pattern, Flor Quilt, and as usual, I have had a group of testers who have tested it and have helped me find new ways to explain things and errors that, due to the process itself, you see.
This time I had more testers than those who usually test my patterns, since I tested the pattern in Spanish and English. In addition, it is my most international test; the testers are from Germany, Chile, the United States, the United Kingdom and the Netherlands. And the nicest part is that there are Spaniards in Germany, Frenchwomen in the UK, Spaniards in Holland, Mexicans in the USA and British in France. It is fantastic to see this mix of nationalities and countries united by the same passion: quilting.
Well, without further ado, I present them to you. You can follow them on their instagram accounts by clicking on their presentation photos. It's worth it as they are all fantastic quilters!
CONOCE A ZEÏBA
---
Hello there, my name is Zeïba, and I was thrilled to be given the opportunity to pattern test the gorgeous Flor Quilt for CapAquilt.
Originally from France, I made a home for my family in the gorgeous English Countryside over 25 years ago.
I started sewing 5 years ago and it quickly became a much needed creative outlet. I initially made bags, lots of bags in cork and tweed and waxed canvas. Like a lot of people Lockdown has been a challenging time which for me resulted in a slight shift in passion, and this has led me to the wonderfully energising world of quilting.
And now I find myself inspired by and passionate about the colours, designs, history (from traditional to modern), texture and skills involved in quilting.
MEET MARTINA
---
I'm from Bonn, Germany, and a proud member of the Modern Cologne Quilters (since 2015); in my day job I work in the international student exchange.
I am a modern quilter but I also like traditional patterns. (Sampler quilt alongs are my secret love even though I often do not know what to do with the block collections.) Solids are my favorite fabrics and of course low volumes.
My strictest critics and best fans are my 3 grown-up children who all live in their own homes with many of my quilts and pillows. They only like my quilts with a fleece backing to make them really cosy. That way I do not have to worry about the backs.
So far I have already made 3 quilts with the Capaquilt patterns and I definitely like the systematic instructions.
MEET XESCO
---
I found myself with an unexpected amount of time on my hands… and being exposed already to the quilting universe within my family, one thing lead to another…
Picked up the hobby for the first time March'20 with a block of the week challenge and from there I progressed – small projects, Christmas decorations, testing patterns and several sew-along gave me something to talk about other than Covid.
I'm excited about the new paths where quilting may take me, and the new persons that has, and will continue to make me encounter along the path.
MEET AMAYA
---
Hi, I'm Amaya! 😃 I'm from Medina del Campo (Valladolid).
As a child I liked to crochet with my grandmother, I have always liked sewing and with the help of my mother I sewed clothes in young years. 27 years ago love brought me to Munich (Germany) and here I live with my husband, my children, and a dog and cat.
In my children's Kindergarten I met a mother who made patchwork in a group, I signed up and since then I can't stop sewing! Before the pandemic, I tried doing a test for a pattern and I loved the experience.
I would like to design Quilts but unfortunately I lack the artistic streak, so I really enjoy doing Tester for Augusto! 😃
MEET MELANIE
---
I'm a software engineer by day, and a quilter by night.
I began quilting last November as a hobby and fell in love with it.
I typically stick to modern patterns in black/white color palettes.
MEET INES
---
@naehzimmerplaudereien | Visit her blog | Visit BERNINA's blog
I'm Ines – besides my job as a wife, a mom of four sons, a farmer and a caretaker of everything, my passion belongs to sewing and quilting.
I love to sit at the sewing machine: Testing and trying out new things, sewing gifts and writing tutorials. I dream of a longarm – and of much more time at the sewing machine.
The greatest thing for me is when someone snuggles into one of my quilts or enjoys wearing a piece of clothing I've sewn myself.
For quilts I prefer to sew fabrics in warm colors that harmonize well with each other – and if I can then use a linen fabric as a background – then I am quite happy!
You may find me in my blog and in my Instagram. I also write for BERNINA's german blog.
MEET ANDREA
---
Andrea started sewing at the age of 9 and quickly turned to quilting.
The obsession began with quilt patterns and matching fabrics and hasn't really stopped.
Andrea is a full time civil engineer but spends much of her spare time quilting. Last year she took her obsession to the next level by taking Alderwood Studio's pattern writing academy.
Since then she has furiously writing quilt patterns getting ready for fall/winter releases!."
MEET LORETO
---
@lazosquiltmaker | Visit her site
Visual artist by training, painting and textile art are my two passions, in order not to work divided is that I merge these two areas.
Developing my works in the ArtQuilt; the replacement of the brush by the sewing machine, the paintings by the fabrics, but maintaining the insatiable search for new forms and backgrounds. It is what makes me experiment, follow new patterns and take risks with colors, all with a single purpose: to create.
In a world where everything is still done, there will always be an edge to discover and enjoy.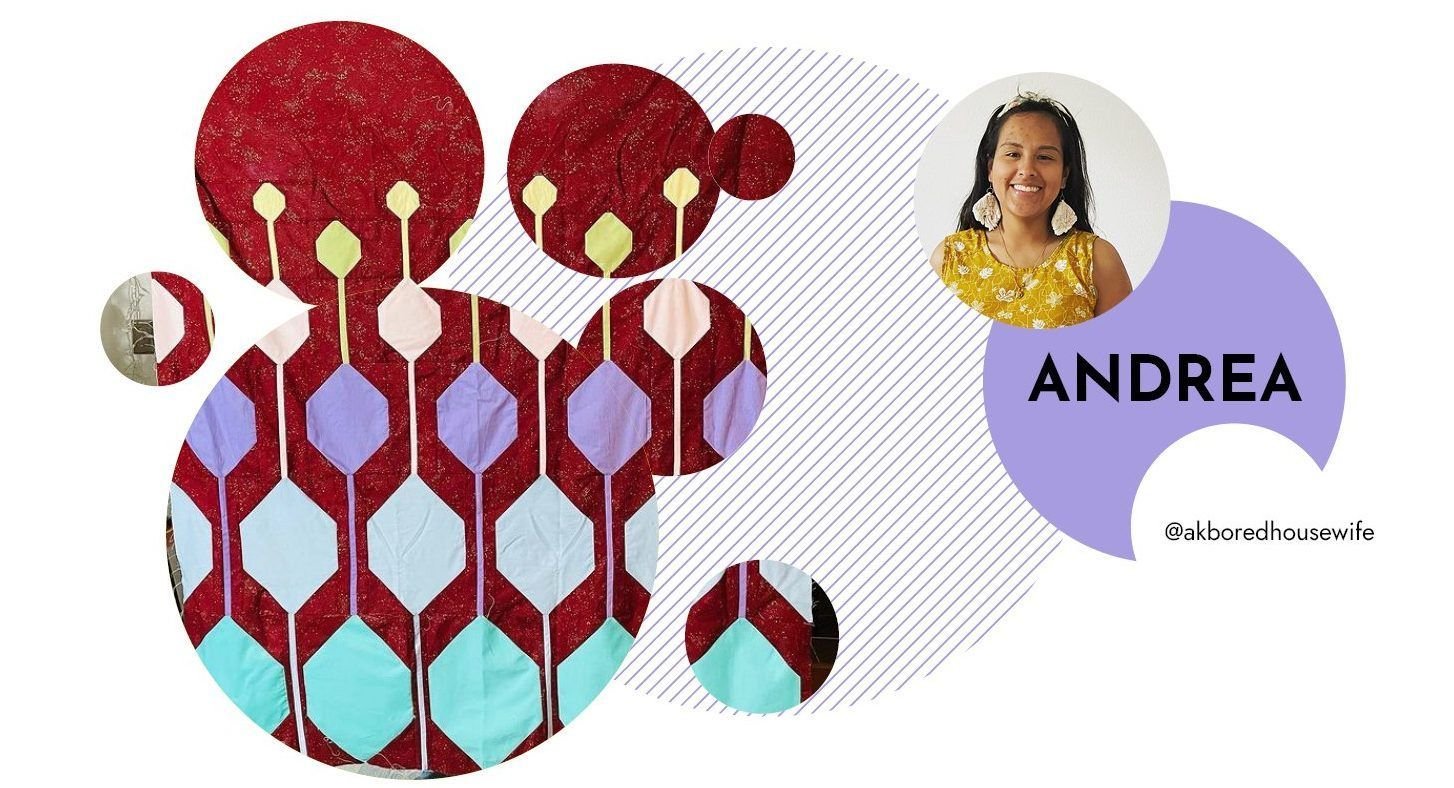 MEET ANDREA
---
@akboredhousewife | Visit her shop
My name is Andrea and I live in Alaska.
I started sewing in 2018. The first quilt I made was a queen size, I think it was too overwhelming for one of my first projects, so I never made a quilt again. I focused on small projects, until this year when I gave patchwork and quilting a chance again and now I am very focused on that, I feel that I am still a beginner and there are many techniques to learn.
The quilts that I have made have been very simple (vertical, horizontal, diagonal lines), the few that I have finished have been on my domestic sewing machine and I love it! It is a challenge to work with reduced space and in the end see your complete work as it came out of that small space.
I am a fan of printed fabrics (graphics), most of the fabrics I have are like this, the solid colors I have are counted, but I am working on increasing them to have variety. Everything I have learned has been on my own with tutorials, I have never taken sewing / quilting classes, but at some point I would like to take an FMQ (free motion quilting) course.